Shared Accommodations 2019 IFS Vancouver
If you are looking for shared accommodations Vancouver 2019 at the Integrative Fertility Symposium, please post to our ride/room share forum for registered members.
You can also connect with us and other members via our facebook page or on twitter.
SCAM ALERT #1 :
Expo Housing Services with phone number 866-319-3976 is a scam. They claim to work with the IFS Symposium to provide housing for exhibitors. They do not! They are a Scam. Book your hotels directly with links below. No one will be calling exhibitors to offer hotel deals.
SCAM ALERT # 2:
Scam to buy the attendee list. If you receive an email from a Robert or smarsdatasales please ignore it. They are not affiliated with the IFS. It is a scam to take your money. .
HOTELS
Delta Hotels Vancouver Downtown Suites by Marriott
$219 CAD/night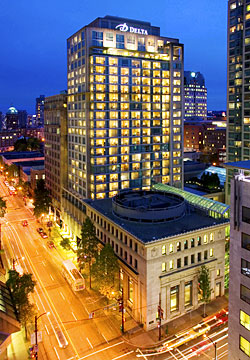 Book your suite at the Delta Marriott Hotel, across the street from the Integrated Fertility Symposium venue in Vancouver, BC. We recommend booking early, as the Delta Marriott Hotel usually sells out well inadvance of the Symposium.
Book your room online
or call or 1-844-254-5048
The Delta Hotels Vancouver Downtown Suites by Marriott puts you at the heart of the Vancouver's plentiful entertainment, business and transportation offerings. The property lies a block from the Canada Line rail system, which connects directly to Vancouver International Airport and is across the street from our symposium location. The hotel is also within walking distance of art galleries, theatres, Stanley Park, Rogers Arena, BC Place Stadium, dozens of restaurants and more. Enjoy shopping the Granville Street mall and Robson Street or take in the vibrant dining scene and nightlife of Gastown and Yaletown.
Location
Address: 550 West Hastings Street
Vancouver, British Columbia V6B 1L6 Canada
Phone: 1-844-254-5048
Phone: 1-800-268-1133
Check-in: 3:00 PM
Check-out: 12:00 PM

Metropolitan Hotel.
$219 CAD/night
The Healthy Seminars (IFS) group rate is $219CAD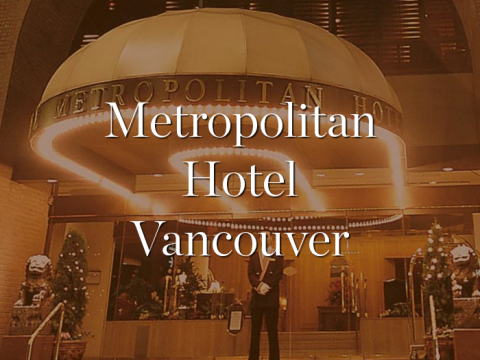 Book your luxury room at the Metropolitan Hotel, three blocks from the Integrated Fertility Symposium venue in Vancouver, BC. We recommend booking early, as our hotel block sells out well inadvance of the Symposium.
Guests can begin booking byusing the link below in order to receive the discounted rates as long there are rooms available at the discounted rate
Website: Metropolitan Hotel
Location
645 Howe Street
Vancouver, British Columbia v6c2y9, canada

Check-in: 3:00 PM
Check-out: 12:00 PM
The Metropolitan Hotel Vancouver — a Vancouver luxury hotel with a superb downtown address and at the same time positioned against a serene mountain backdrop. The downtown Vancouver hotel's convenient location is surrounded by all the pleasures and excitement that one of Canada's finest cities has to offer, whether you come for business or pleasure.
Pinnacle Hotel Harbourfront
Estimated Price: $369CAD
The Pinnacle Hotel Harbourfront has been uniquely transformed, offering stylish guestrooms reflective of the city's spirit. Located on the waterfront in downtown Vancouver, this luxury hotel is only minutes away from the Alaska Cruise Ship Terminal, Vancouver Convention Centre, historic Gastown and Stanley Park. The re-designed guestrooms and suites feature luxurious amenities from new bedding to innovative technology.
The Pinnacle Hotel Harbourfront Hotel is a 9 minute walk from the Integrative Fertility Symposium located at the Harbour Center (555 W Hastings St), or a 8 minute bus ride.
1133 West Hastings Street
Vancouver, BC V6E 3T3
Toll Free: 1 (844) 337-3118
Fairmont Waterfront Hotel, Vancouver
Estimated Price: $384 - $619
Located on Vancouver's dynamic harbourfront, the Fairmont Waterfront proudly embraces a sustainable philosophy. We offer upscale comfort, personalized service, and unparalleled West Coast views, with easy access to everything that makes Vancouver spectacular. All this… and we like to have a little fun, too.
When it comes to convenient location, it's hard to beat the Fairmont Waterfront.  We're steps away from the Vancouver Convention Centre, the cruise ship terminal, and Waterfront Sky Train Station. A short jaunt will have you sampling the trendy pubs and eateries of historic Gastown, browsing the latest fashions on Robson Street, or biking amongst the giant trees of world-renowned Stanley Park. 
Information
Toll Free (Room Reservations only): 1 866 540 4509
thewaterfronthotel@fairmont.com
900 Canada Place Way
Vancouver British Columbia,
Canada V6C 3L5
TEL + 1 604 691 1991
FAX + 604 691 1999
International Numbers
Coast Coal Harbour (4 Stars)
Estimated Price: $209CAD- $389CAD
Vancouver has a whole lot to offer, and at our Coast Coal Harbour hotel, you'll be at the perfect location to soak it all in.
The Coast Coal Harbour Hotel is situated right near the water, a stone's throw from the beautiful Stanley Park as well as the bustling Gastown district and the renowned shopping on Robson St. and within easy access to an incredible array of arts and entertainment. We're also steps from the Vancouver Convention Centre ideal for our business travelers.
Each of the guest rooms at our  downtown Vancouver hotel features floor-to-ceiling windows and sleek, yet comfortable, décor. Our rooms come with complimentary wireless Internet and a range of modern amenities. You'll also have access to our top-notch fitness center, pool and hot tub—not to mention our signature Prestons Restaurant, the perfect spot to drink, dine and dish about your Vancouver experience.
Information
1180 West Hastings Street 
Vancouver BC, V6E 4R5 
Ph: 604.697.0202 
Fax: 604.697.0123
Ramada Limited Vancouver Downtown (3 Stars)
Estimated Price: $207CAD - $232CAD
Relax in the heart of Vancouver at the Ramada Limited Vancouver Downtown hotel. Located off Highway 99, our Vancouver, BC, hotel near Gastown puts you within easy reach of all the attractions that downtown Vancouver offers so you can make the most of your stay.
Our non-smoking hotel provides comfortable amenities to help you feel rejuvenated. Our friendly front-desk staff is available to assist you 24 hours a day, and a free continental breakfast with hot items awaits each morning. Stay connected to the office or home with free Wi-Fi Internet access in every room and common area. Our Vancouver, BC, hotel also offers same-day dry cleaning service and handicapped-accessible rooms. Indoor, garage and valet parking for your car or motorcycle are available for a nominal fee. Free Wi-Fi And Hot Continental Breakfast.
Information
435 W Pender St, Pender and Richards Street, 
Vancouver,BC V6B 1V2 CA 
Sandman Hotel (3 Stars)
Estimated Price: $164CAD - 244CAD
Because of its central location, this downtown hotel provides perfect walking distances to Vancouver's famous shopping street, Robson Street, and to the multitude of restaurants and lounges Vancouver is known for.
A simple 10-minute walk from this downtown hotel puts you in historic Gastown, the city's oldest neighbourhood. With cobblestone streets, shopping, and nightlife, this district closely resembles Europe. Whether you're looking for souvenirs, stylish boutiques, pubs, upscale restaurants, clubs, or for the perfect patio to gaze at both the mountains and ocean, Gastown has it all.
Information
Sandman Hotel Vancouver City Centre
180 W Georgia St
Vancouver BC V6B 4P4
Tel: 604 681 2211 
Fax: 604 681 8009 
Toll-free: 1+800+SANDMAN (726 3626) 
Email: reservations@sandman.ca
The Days Inn Downtown Vancouver Hotel (3 Stars)
Estimated Price: 174CAD - $220CAD
Vancouver's Stunning Waterfront, our Award Winning Vancouver Convention Centre recognized as one of the leading convention centres in the world and the Cruise Ship Terminal are only 3 blocks away from our 85 guest room hotel.
The US Consulate as well as The Pacific Centre, Vancouver's premier shopping destination, are on our same street.Whether you visit us on business or for pleasure, you will enjoy our warm welcome and knowledgeable front desk.
We offer clean and comfortable accommodations, complimentary wireless internet, a Business Centre, laundry facilities with filtered water, pop and snack vending machines, ice on 3 floors and self-parking for a fee, 2 blocks away from the hotel.
Information
921 West Pender St,
Vancouver, BC V6C 1M2
Toll Free: (877) 681-4335
Telephone: (604) 681-4335
Executive Hotel Le Soleil (5 Stars)
Estimated Price: $178CAD - $263CAD
An intimate repose in the heart of Vancouver's business and shopping districts, Executive Hotel LeSoleil is known for its all suite luxury boutique experience and exceptional service. A four-diamond property (AAA) since it opened its doors in 1999, the Executive Hotel Le Soleil has been recognized as one of the top 25 luxury hotels in Canada. Executive Hotel Le Soleil has been consistently awarded the Travelers' Choice Award by Trip Advisor.
Designed to reflect stylish sophistication and the warmth of old world elegance, the inspiration for the design came from luminary hotels; the Savoy in London and Le Crillon in Paris. Le Soleil features 106 beautifully appointed suites with separate bedroom and seating areas. Locally owned and operated, the Hotel Le Soleil's guest service team is dedicated to ensuring each guest experiences the best of Vancouver; offering a level of hospitality that looks after a guest's every need, with the goal to ensure a lasting relationship.
Information
567 Hornby Street, Vancouver,
BC Canada V6C 2E8

Tel: (604) 632-3000
Fax: (604) 632-3001
Rosewood Hotel Georgia (5 Stars)
Estimated Price: $402CAD - $660CAD
First opened in 1927, the legendary Hotel Georgia became quickly known as the city's most fashionable retreat and one of the best hotels in Vancouver. The hotel underwent an extensive renovation in 2011 and was unveiled as Rosewood Hotel Georgia in June, 2011. Imbued with a sense of grandeur and elegance, the hotel now features 156 rooms and suites that flawlessly combine legacy with luxury. For generations, guests have indulged in Hotel Georgia's charming ambience, remarkable service and landmark location.
The associates at Rosewood Hotel Georgia have a passion for impeccable service and Canadian hospitality to make guests feel at home. To stay at this luxury hotel is to experience one of life's finest rewards.
Information
801 West Georgia St.,
Vancouver, BC,
Canada V6C 1P7 
T: +1 604 682 5566
E: hotelgeorgia@rosewoodhotels.com
North America Reservations Hotline:
T: 1 888 ROSEWOOD
(1 888 767 3966) 

International Direct Dial: 
T: +598 2 518 7124