Room:
Fletcher Challenge Theatre
Description
There are many wonderful self-care practices that we can do before our busy day begins, or after our work day ends, or whenever we can grab a quiet moment. But for those of us for whom that "extra time just for us" rarely materializes, we need substantial and effective self-care practices that can be engaged right in the middle of the busiest times of our lives. Thus Whole Heart Connection is not a way to remediate stress; it is a way of living fully resources so that the same events are no longer stressful. Instead of being drained and depleted by giving, we can in fact be nourished and healed through our service to others. Whole Heart Connection is a set of 12 basic practices designed to allow us to live fully resourced. They are body-based awareness practices that allow us to increase our capacity for connection to ourselves, others, and the the Universal Shen.
Learning Objectives
Students will learn:
1. How to be in their whole body in ways that allow them to rest and recharge while in action.
2. How to use their voice in ways that allow their every day speech to take on the effects of sacred chanting.
3. How to give from the heart rather than from the self.
4. To notice from their own body language when they are rescuing rather than empowering, and will be able to shift into empowerment.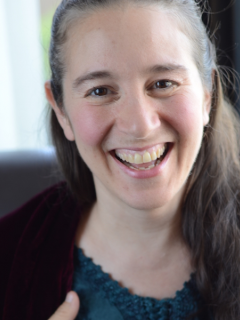 Thea Elijah, LAc, has been a student of Chinese herbal medicine and acupuncture for over 30 years. She is the former director of the Chinese Herbal Studies Program at TAI Sophia Institute and the Chinese Herbal Studies Program at the Academy for Five Element Acupuncture.
She has apprenticed and studied with some of the most influential Chinese medicine teachers in the West. Thea is also a Master Teacher of the Shadhuliyyah Sufi Order, and a teaching assistant at the University of Spiritual Healing and Sufism.
Thea maintains a private healing practice, incorporating her Chinese medical knowledge and heart-centered healing. At the request of her clients and students, she has developed a series of workshops teaching Whole Heart Connection (formerly Medicine Without Form). These open the student to "healing" situations outside of formal health care contexts, including family life, classrooms, activism for social change, and work within organizational structures. She currently teaches Chinese Medicine, Sufi Healing, and Whole Heart Connection across the United States. Thea is based in Southern Vermont, where she lives with her family.