Speaker:
Rani Ayal Dipl. Ac. (IATCM)
In the year 500 B.C. the famous doctor Bian Que revived a patient from a state of coma and convulsions by treating the point GuiGong (Ghost Palace) - Gv 26.  This is the first documented treatment of Ghost possession. 
A thousand years later, in his book 'Prescriptions worth a Hundred Gold Coins', Sun Si Miao summarized the understanding and the clinical protocols for the use of thirteen ghost points for diverse and complicated clinical situations like neurological disorders, extreme Shen or psychiatric disorders, growths and tumors. In it he wrote:  
"Man is conceived through the joining together of the energies of Heaven (Shen) and the energies of Earth (Jing), creating the human soul which consists of ten parts: three parts Hun and seven parts P'o.
The Hun follow the Shen, coming and going. They are the spirits connecting man to Heaven.
The P'o reside with Jing, they enter the body at conception and are with us till death.
The P'o are the souls, connecting man to Earth and to the experiences of life."
When a person dies, The Hun and the P'o leave the body. This process takes up to seven days. Ghosts and Demons are actually "damaged" souls, created when this process of death is distrubed. These souls require Earthly energy in order to heal and continue their journey onwards. For this reason ghosts may come to reside in living beings, causing a chronic disturbance in the Shen.
Today we call these disturbances psychiatric and neurological disorders.
The aim of this seminar is to correctly diagnose and treat the Shen with acupuncture. Specific body and pulse diagnostic techniques will be discussed together with the treatment protocols for the thirteen Ghost Points.
Numerous clinical examples will be given for the treatment of patients suffering from diverse complaints such as epilepsy and convulsions Menier and Touret syndromes, tinnitus, schizophrenia, infertility, uterine tumours and endometriosis, post-traumatic stress disorder and more.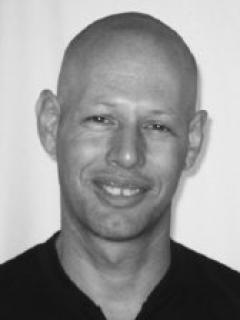 Rani Ayal Dipl. Ac. (IATCM)
Rani Ayal Dipl. Ac. (IATCM) has been studying and practicing Chinese Medicine since 1988.
Initially trained in Shiatsu and Meridian Acupuncture in Japan, Rani returned to Israel and continued his studies in Shiatsu, Acupuncture, Herbal Medicine, Tai Qi Chuan and Chinese Nutrition.
Upon graduating from "Medi- Cin" college of TCM in Israel Rani continued his studies in 5 Elements, Stems& Branches and Classical Chinese Acupuncture under the tutelage of Master Acupuncturist Joan Duveen in Holland, who continues to be his mentor till the present day.
Former head of the Shiatsu dept. at "Medi- Cin" college and the Acupuncture division of the Complementary Medicine Unit in "Sourasky Medical Center" in Tel Aviv, Rani has taught Chinese Medicine extensively to students and medical doctors in different programs throughout Israel.
Today Rani teaches a post- graduate course in 5 Elements and Stems& Branches acupuncture and maintains a private practice specializing in gynecology (especially infertility), pediatrics, oncology and the diagnosis and treatment of "difficult" diseases.