&nbsp
&nbsp
Vancouver, BC, April 16-20, 2020
Why this conference is so important
You know the story.
It's one that pulls at your heartstring each time you see a couple that is struggling to conceive. Couples and families that have given everything they have for a chance to have a baby of their own.
Mothers & fathers-to-be that have had to endure the loss of a pregnancy…
The healing profession is facing an epidemic as more and more couples search for solutions and look to integrative approaches to contraception, sustained pregnancy and, ultimately, the successful delivery of a healthy baby.
Their stories are why we continue to push ourselves to find new solutions and engage in the research that is being done around infertility. It is why we exist.
As the world's largest conference focused solely on integrative reproductive health, the international Integrative Fertility Symposium (IFS) brings together world-renowned speakers in the fields of naturopathic medicine, acupuncture, reproductive endocrinology and reproductive urology.
With three tracks - including one designed specifically for naturopathic doctors - IFS 2020 is your chance to learn from leading practitioners such as Doctors Jacyln Chasse, Joseph Pizzorno, Leah Hechtman, Robyn Murphy, Carrie Jones, Paul Magarelli, and many others.
You owe it to your patients to provide them with the best options and treatments when it comes to their fertility.
Join us in Vancouver, BC, April 16-19th, for the International Integrative Fertility Symposium
"9-Week Fertility Detox Program"
IFS 2020 offers a total of 57 hours of ND continuing education hours and you can earn a maximum of 26 (CE) from attending
College of Naturopathic Physicians of British Columbia (CNPBC) category C
Oregon Board of Naturopathic Examiners (OAND)
California Naturopathic Doctors Association (CNDA)
The College of Naturopaths of Ontario (CONO)
Who is this conference for?
This is the conference for you if you want to help your patients:
Optimize their fertility
Navigate the IVF process
Improve live birth outcomes
The 2020 edition of the Integrative Fertility Symposium features:
29 world-renowned speakers
Over 90 hours of lectures
Lunch & learn and networking opportunities for you to enhance your knowledge and skill set.
"Pre-Symposium: Clinical Algorithms for Naturopathic Fertility: More than Just the Cliff Notes" "Putting it Together: Advanced Fertility Cases from a Naturopathic Perspective"
Meet our World-Renowned Experts
Your Integrative Fertility Symposium presenters bring with them many years of knowledge and clinical experience to share with you regarding treating infertility. The speakers include medical doctors, naturopaths, acupuncturists, and functional & Chinese medicine practitioners.
View their full individual biographies here
.
Check out some of the IFS 2020 sessions you won't want to miss!
Carrie Jones ND: Talking About Sex Drive and Hormones -- How Do You Make A Baby When You're Not in the Mood?

David Albertini PhD: Linking Lifestyles and ART Technology to Egg and Embryo Quality

Fiona McColloch ND, R.Ac: Optimizing Egg Quality in PCOS

Joseph Pizzorno ND: 9-Week Fertility Detox Program

Stefanie Trowell ND: Optimizing Fertility with Intravenous Therapy (IV+F)
Check Out the Full Conference Agenda here.
Is IFS 2020 right for you?
You believe in treating reproductive health issues using an integrative approach
You want to better your skills and increase your patients' chances of conceiving naturally or with IVF
You're keen to connect with hundreds of the world's leading fertility experts who will be in attendance
You want to start treating more complex fertility conditions and don't know where to begin
You want to earn continuing education (CE) credits to fulfill your renewal requirements
You want to use this knowledge to help your patients improve the epigenetics of their future children
You could benefit from learning self-care tools to prevent practitioner burnout (which you can also share with your patients)
You're looking for an excuse to visit beautiful Vancouver, Canada and write it off (travel and learning all in one!)
REGISTER NOW FOR IFS APRIL 16-19, 2020

As part of your registration you will receive:
Tickets to the 3 day symposium and optional pre-symposium in beautiful Vancouver, BC
Complimentary access to fertility products expo in exhibitor hall
Special Lunch and Learn Session on Saturday April 18th
Access to Post Lecture Mix and Mingle/Networking Events
As part of the early bird BONUS if you register by Feb 29th, you will also receive:
90+ hours of presentation and lectures as video recordings
Audio & video recordings of all 29 experts
All handouts from all 4 concurrent sessions from main symposium
Early bird registration expires in:
REGISTER BY FEB 29 TO TAKE ADVANTAGE OF THE SPECIAL OFFER

About our CEUs
Continuing education credits will be available for the following governing bodies/associations:
NCCAOM
California Acupuncture Board
ABORM
Florida Acupuncture Board
Texas Acupuncture Board
Canada acupuncture boards (British Columbia, Ontario, Alberta)
Australia (AACMA)
New Zealand (NZRA)
BAcC (United Kingdom)
AFPA (Ireland)
College of Naturopathic Physicians of British Columbia (CNPBC) category C
Ontario College of Naturopaths
Oregon Board of Naturopathic Examiners (OAND) -
California Naturopathic Doctors Association (CNDA)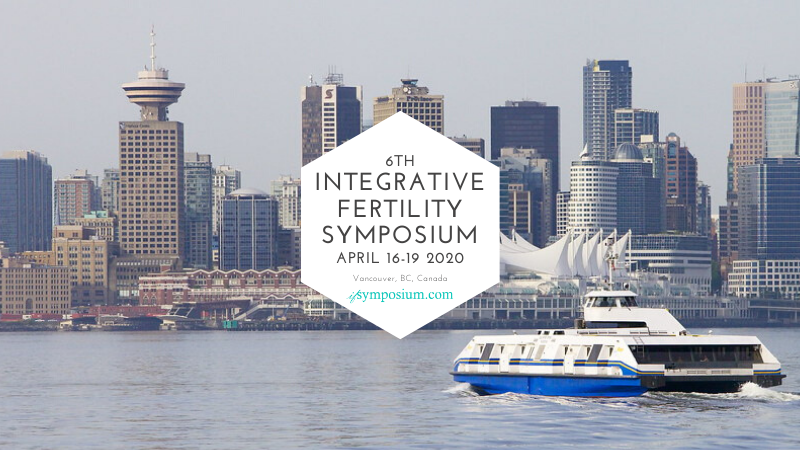 MORE TO LOVE!
Two of the four IFS 2020 pre-symposium talks have a naturopathic medicine focus - join us on Thursday, April 16!
Aaron Goldman and Robyn Murphy
Clinical Genomics for Women's Health -- Insights into the Use of Genetic Testing in Practice: Take an exciting dive into the clinical application of lifestyle genetic testing. Learn how to apply genetic testing to personalized nutrition, hormone balance and detoxification through the lens of women's health while discussing strategies, real cases and protocols.
Jacyln Chasse
Clinical Algorithms for Naturopathic Fertility -- More than just the Cliff Notes: This one-day, interactive course will take you through the entire patient intake process, starting with the first visit and lab workup before moving into more complex testing, the most common diagnoses you'll see, and ending with treatment plans you can put into practice right away.
"Pre-Symposium: EFT as an Approach for Weight-Loss, Anxiety, Depression, Pain & Wealth Creation" "EFT: A Self Care Stress Reduction Technique for Health"
Special offer (recordings, including video, mp3 and handouts) expires in:
Ready to be a part of something great? TAKE ADVANTAGE OF YOUR SPECIAL OFFER
What makes IFS 2020 different and even better than last year?
We've added a Self Care for Practitioners track to give you the tools you need to prevent burnout and to share with your patients.
Three tracks: Functional Medicine for reproductive health, TCM for for reproductive health and Self-Care:" Awaken Your Inner Healer
There are four concurrent sessions instead of three this year
We'll include the audio and video recordings (plus the handouts!) from the 4 concurrent sessions from the main symposium if you register by February 29.
You're invited to the IFS Welcome Reception on Thursday, April 16 from 6:30-9:30pm.